What is F9PH diesel locomotive?
F9PH is a former Baltimore & Ohio Railroad EMD F7/F3 locomotive rebuilt by Morrison-Knudsen for the Maryland Department of Transportation.The main modifications were the replacement of the engine and the installation of a passenger car power supply.Externally, it features no front door, square skirt, and a generator muffler on the roof.The side windows (portholes) are also blocked.At the time of introduction, there were 5 aircraft (MDOT #7181-7185).
The similar model 7100 is an Auxiliary Power Control Unit with the power engine removed, and seems to have been used during push-pull operation.
Bachmann F9 powered version
I didn't feel like building something under the floor, soBachmann I drew it as a replacement body shell for the N F9.This Bachmann F9 has a slightly longer body, probably because it was designed with priority given to gears.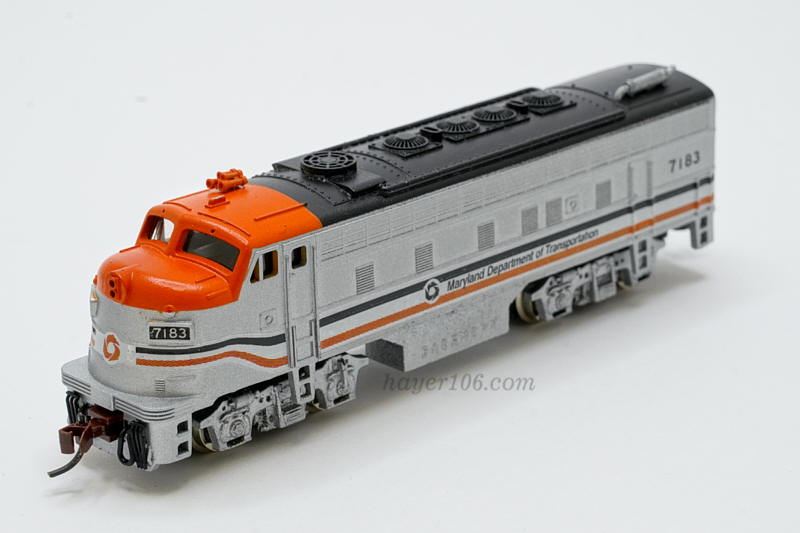 It was close to what I had in mind, so I thought I'd call it a day, but something wasn't quite right.I decided it would be nice to have a power source that could also carry a DCC, so I also designed one for F7 power (lol)
For Kato F7 power
CatoThe powered version is shorter than the one for Bachmann F9.Furthermore, the width is a little thicker than Bachmann.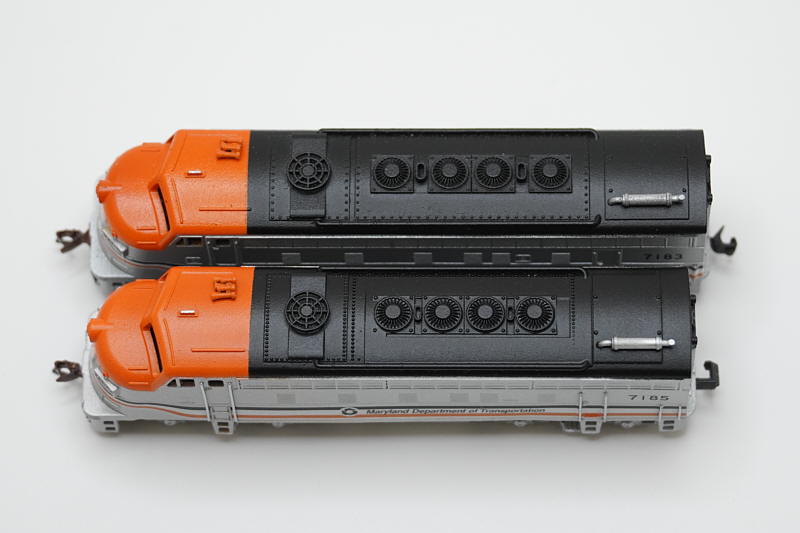 Furthermore, the side handrails are made into separate parts to make it easier to apply decals.This is also UV resin.For now, I tried 3D output of two types: an early model and a late model with a ditch light.
Maryland DOT version (early model)
Reproduced in the appearance immediately after F9PH rebuild.I also like the silver color under the floor. (His suspension is Bachmann F7)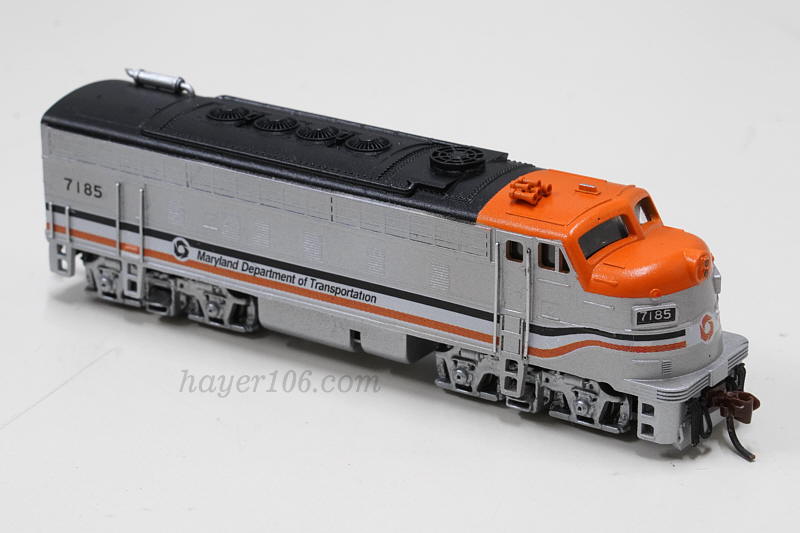 Chessie Sytem version (imaginary painting)
Chessie System is my favorite fictional painting (lol) (undercarriage is Kato F7)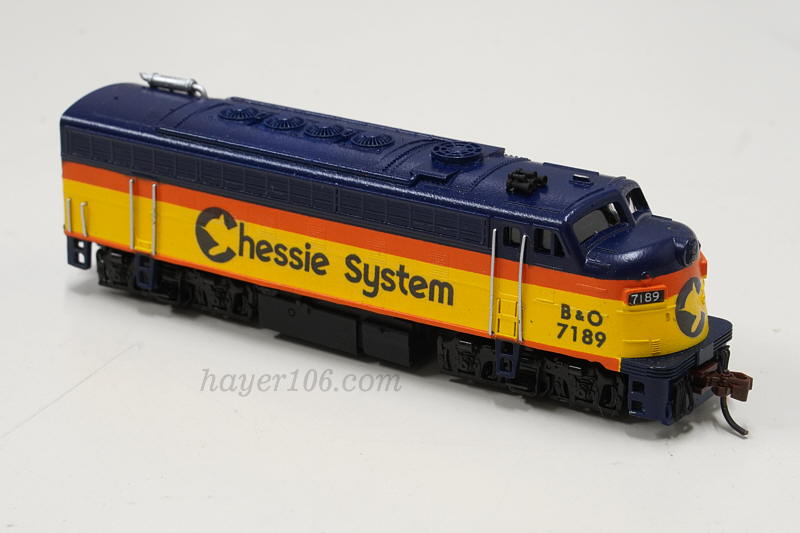 Washington Central version (with ditch lights)
Washington Central Railroad (WCRC)'s F9PH seems to have been introduced for dinner trains.The red paint is very attractive. (The suspension is Kato F7)
WCRC No. 82 (Former MDOT F9PH 7182 / CNJ 14 / B&O 4582 / B&O F7A 939)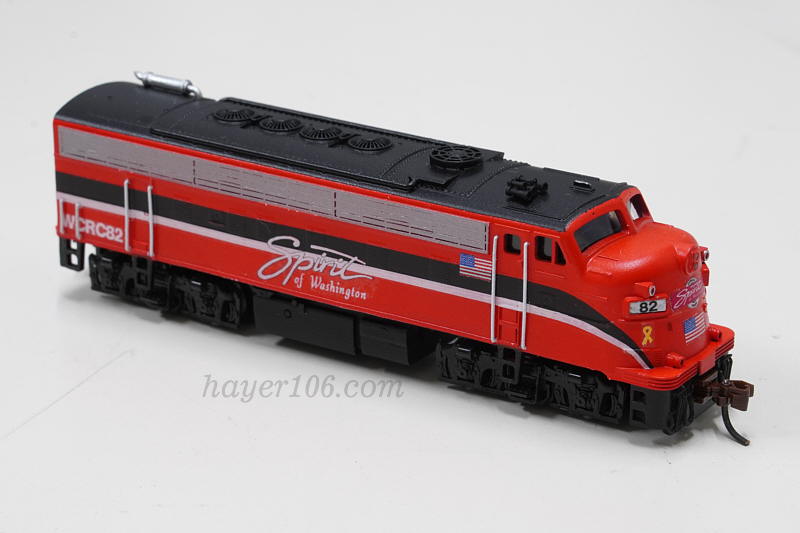 WCRC No. 84 (Former MDOT F9PH 7184 / B&O 4472 / B&O F3A 165)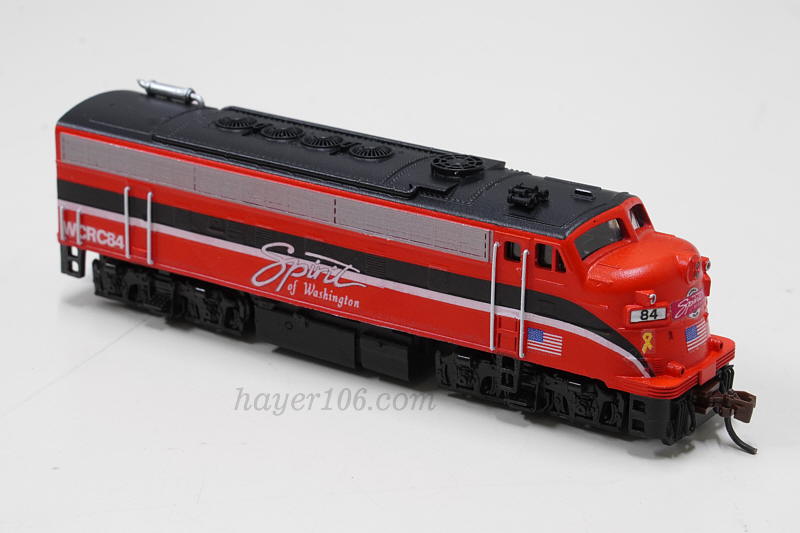 82 and 84 seem to have different locations for pasting the Stars and Stripes.I feel like the details on the roof are different because the model cars are different, but I can't confirm that because I don't have any documentation.Painting was a pain, but I'm glad I did it.I just don't have a passenger car to pull it (lol) Can I make one? (lol)
After making F9PH
Originally, I was just practicing drawing a dognose-shaped bonnet, but I'm glad it turned out to be somewhat visible.Yes, this is a drawing exercise of a dog nose.That means the favorite vehicle is after this (lol)
soon NJ Transit E8 and Amtrak Challenge E8 4316.
---
memo:
Output Anycubic Photon SE / Anycubic ABS like resin black
MDOT paint: Tamiya TS-17, Greos Black Saf 1500, Orange: Original formulation
WCRC paint: Tamiya TS49 (Airbrush), Greos black saf 1500