Opportunity for production
When I was searching online for a short wooden caboose that would be suitable for a small locomotive, I found one from the American Delaware & Hudson Railway (D&H). D&H 35886I found an image of the saved car.I originally modeled it with the intention of using it as a model car for freelance painting, but I took the opportunity to recreate the specifications of the preserved car as much as time allowed.
The Delaware & Hudson wooden caboose we used as a reference was manufactured in 1913 and was one of the first four-axle caboose introduced by the Delaware Hudson Railroad.It is characterized by the cupola part being closer to the end of the car and the reinforcing iron material being placed diagonally.This car #35886 is located in New Jersey. Whippany Railway Museum It is exhibited at.There seem to have been many variations of this wooden caboose series during its active years, including a version without a cupola, and a caboose reupholstered with copper plates.
Modeling a wooden caboose
made in the pastN8 CabooseBased on the data, we adjusted the length, re-opened the window, and created a new cupola part.This caboose debuted in the steam locomotive era, so I enjoyed the shape, which I had never seen before, such as the horizontal brake handle and the chevron-shaped rain shield on the window.
It seems that just adding slits can give it a wooden look.If you remove the slits, it will become a copper plate specification, and you can enjoy it twice with one effort, which is a great deal (lol) For freelancers, I plan to use a copper plate specification considering the times.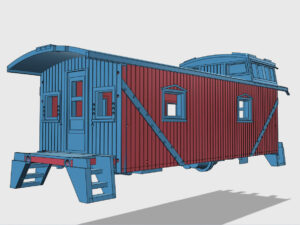 Painting the caboose
The actual car from its active days is probably more of a Tuscan red color, but the preserved car is a pretty beautiful red.So, this time I used leftover Tamiya Italian red spray paint (lol).The roof etc. were covered with his Creos black saf, and the handrails etc. were painted with Tamiya caramel yellow that I had left over.As usual, the decals are improvised self-made decals for the Alps MD1500.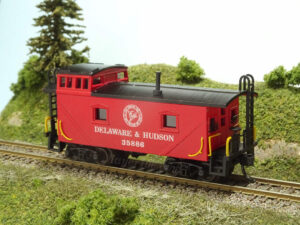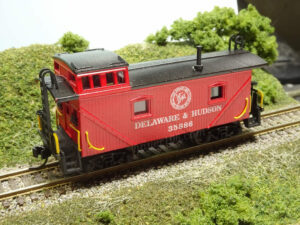 In addition to this, I'm currently creating two other patterns, so I'm thinking of adding images here as soon as they're completed.I don't know when it will happen (lol) but it's over.
<Added on 2023/8/30>