tomy technostalgic railway collectionpower unit of TM-TR07 I heard that it was quite good, so I decided to make an EMD SW type diesel locomotive on a whim.This diesel locomotive was made by the American EMD (Electro-motive Division) and was a popular shunter after the war.I used the shunting machine to draw two representative faces, reduced to the size of Nostetsu.
Data creation
For this EMD SW, I started writing it vaguely, and since it's a "type", I didn't do any proper research (lol). I tried to finish it like that by comparing past memories and images from the internet.
EMD SW series type A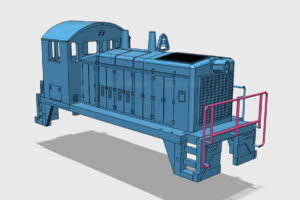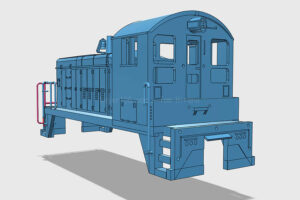 Personally, I saw this type often, when I lived in America.NJ Transit However, it was active as a shunting machine.I tried to create a model with the number integrated light, the roundness of the cab roof, and the narrowness of the body in front of the cab in mind.
EMD SW series type B (SW1000 style)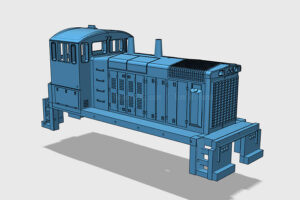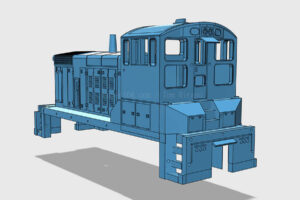 It looks like a slightly more modern version of Type A, and similar designs can still be seen on MP15s and other cameras.In order to differentiate it from the Type A, we adopted a style characterized by a high hood and cab.
Modeling/assembly
The EMD SW I created this time has a short vehicle length, so the output was short.However, since I made the handrail as a separate part, I had a bit of a hard time deciding the direction of the output and the support position.It would be easier to output such parts as one piece, but we took into consideration future repairs and painting.
For power, I used Tomytec's TM-TR07.The relief under the floor is a ready-made product that came with other DLs.It is not impossible to use the powered relief relief, but the problem is that if you cut the interfering claw part, the body will not be able to be fixed (lol).Bachmann I installed an output product that imitates a dummy coupler.
Painting
The first EMD SW type was a trial body (lol) I decided to make it a Norfolk Southern.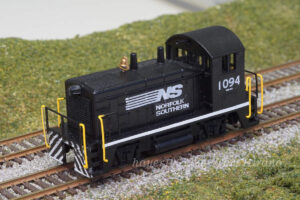 A body shell of the same type as above was used to color a shunting machine at Eastman Chemical (Kodak) in Tennessee, USA.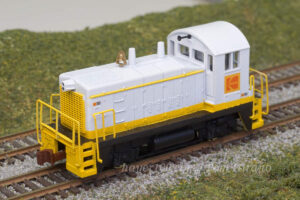 Lastly, we used a body shell similar to the SW1000 to recreate the Kodak shunting machine in Rochester, NY.However, the details seem to be quite different.I think this coloring was based on his Kodak VR-G film.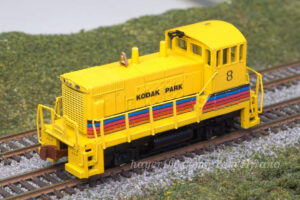 Make EMD SW
I made this EMD switcher as a way to utilize Nose iron power.He might be cute if you run it in a mini layout like B Train Shorty, which was popular in the past.However, since many manufacturers produce and sell full-size EMD SWs, it is questionable why they would take the time to make one.Well, I made it (lol)