I didn't realize it until recently, but AmericaAtlas RR I think they released a collector's series.Released to coincide with various American holidays.This time, I would like to introduce the American Independence Day edition, which personally stuck with me.
Atlas 4th of July 2023 Holiday Special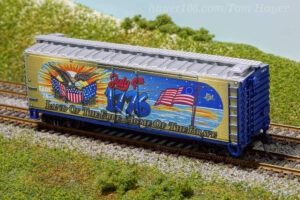 This is a freight car released in time for American Independence Day this year (2023).The design is inspired by Aigle.His car number is EAGL 76, so I think it was taken from Eagle.The product is an Atlas Trainman 40ft Plug Door Box car with limited edition paint.
What is interesting is that the design is different from the one introduced in the catalog before production.I'm a little curious as to what happened (lol).The manufacturer's suggested retail price is US$35.95, item number 50006479.
Altas 4th of July 2022 Holiday Special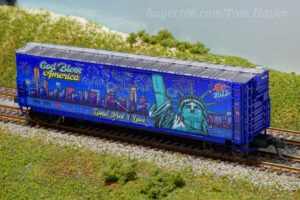 If there is 2023, then there will also be 2022, right?When I checked the trading company's inventory system, I found this.This is the American Independence Day version released last year.This is a design with the Statue of Liberty as a motif.The car number is FRD 1776, so I think it was taken from Freedom.
The base freight car is the Atlas Master series GA 50ft RBL Box car, which is a product with great attention to detail.Some of the ladders are made into separate parts, and the wheels are made of metal, making it a master grade item.The underside of the floor is also made with a little attention to detail.Manufacturer's suggested retail price is US $38.95, item number 50006164.
Collector's Series How to obtain
It seems that it was originally intended to be sold directly, but it seems that it is actually distributed normally, so you can purchase it at your favorite model store.I'm also offering it on PayPay Flea Market, so please check it out if you'd like.Although it is expensive due to the weak yen (lol)
You too please lol