the other daypullman bilevel passenger carI was able to make it quickly, so I got excited and also made an Amtrak California Car (?) Amtrak California Car.Personally, I don't have much connection to the West Coast and am not a particular fan, but I thought it would be possible to do it by rearranging the windows and doors of the passenger car I made the other day, so I chose it.However, this is a big mistake.Since the outside dimensions are different, I ended up collecting the sizes from scratch.It ended up being quite a big deal (lol)
I didn't know anything about Amtrak California, so I searched for images on the internet.If you look closely at the car body, there are 8000 series with wide corrugated sides and 6000 series with narrow side corrugations. The 6000 series looks a lot like the Amtrak Surfliner.I thought it would look more elaborate if there were a lot of corrugates (?), so this time I made one in the 8000 series.
There are 4 types of Amtrak California 8000 series vehicles.
A quick search on the internet reveals that there are four types: Coach, Coach/Baggage, Cafe, and Coach/Cab.Is the purpose of making it quick this time?Therefore, I chose two types: Coach and Coach/Cab with driver's cab.When I looked into it, Coach and Cab/Coach seem to be almost the same except for the details on the gable side, which is convenient.OthersBecause it's a hassleMaybe another time (lol)
body drawing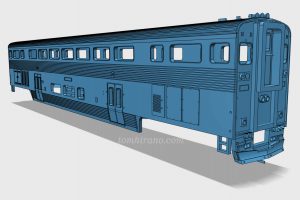 Combining basic shapes using familiar software every time.The body is rectangular, and the roof is rectangular with fillets.The lower part of the body is a thin rectangular body tilted inward.All you have to do is cut out the window and it will look like that.There are no parts under the floor, so it's easy.
It seems that the lights on the 8000 series cab vehicles have been relocated, so it would be better to position them according to the era to be reproduced.Since I don't have that much knowledge, I somehow selected Horoshita.
The trolley is a temporary trolley
CatoIt would be OK if I bought the ASSY for Mr.'s trolley and attached it, but since cost is a priority, why not?this time tooCon-corI'm going to fool you with the leftovers trolley.I would like to create something original that can collect current.
Decals are laser printed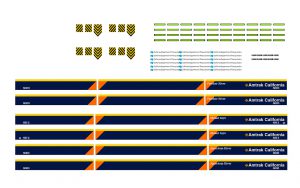 I was planning to paint it, but it seemed like it would be a pain to separate the colors into navy blue, orange, and yellow, so I used decals for the band around one window (lol).
I could have used a white decal sheet, but I chose transparent decals because they were thinner and would blend better with the uneven surfaces.However, I sprayed it white before applying the decals.The white is sticking out in some places because it's not good, but more than that, when you take a close-up photo, the halftone dots peculiar to the laser are a bit disappointing.
Each Amtrak California Car has a name, so when making the stripes, it was necessary to check and match the vehicle number and name. On Track On Line There was a summary on this site, so I referred to it.
Amtrak California Car completed for now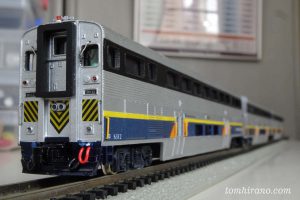 I was worried about the center of gravity and weight, but it looks like it will be fine just by attaching a trolley.I bought this in 2002/2005.Atlas Dash8-32BHW Diesel locomotives can be used.There are only 3 passenger cars lol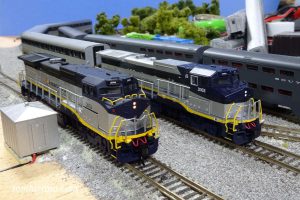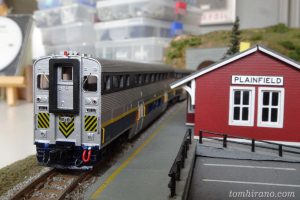 Points for reflection/future improvements
When printing, the side of the body will twist slightly.I think this is probably because the tension changes depending on the position of the window.I need to study this area a little more.Also, in terms of construction, I would like to be able to implement a trolley that can collect electricity, interior lights, seats, and taillights in the future.I think it would be nice to make a Surfliner that is similar in appearance.I don't know when it will be lol