B train shorty versionOigawa RailwayI heard that Thomas the Tank Engine is difficult to convert into N scale, so maybe it's to kill time?I tried the challenge (lol)
The base of the suspension was American Lifelike (currentlyWalthers0-6-0 type steam locomotive sold at ).in Japanmicro aceI think it was temporarily imported and sold as a foreign type.Even on the used market overseas, it's less than 2,000 yen.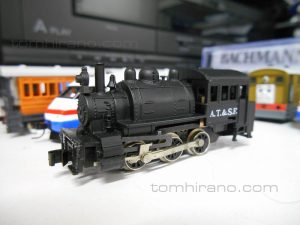 Actually, I wanted to recreate the front and rear wheels of the C11, but since I was using extra parts, I decided to only use the 3-axle drive wheels for now.Replace the motor with a smaller one.
B train shortyThomas the Tank Engine has a black part that becomes the center shaft, and the sides are attached to it.However, when it comes to powering it up, this central part cannot be used.Therefore, we decided to glue the sides together without the center shaft part.However, the adhesive area is small and fragile.Since it can't be helped, is it a rough job to weld the parts together with a soldering iron?Cutting corners?It was a lot of work (lol) I also removed the interfering parts and it looked like this.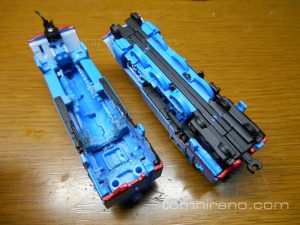 Lack of power when running.The front part was too light, so I attached many nuts to the bolts and stored it in the boiler.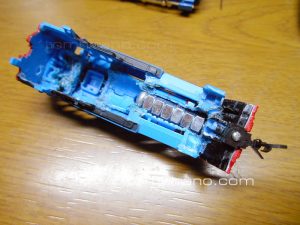 The screw set I bought at 100 yen shop was useful.
Since I wanted to put a light in at the time, I made a hole in the light part.chip ledI inserted the one with the conductor connected to it.The inside looks like this after remodeling.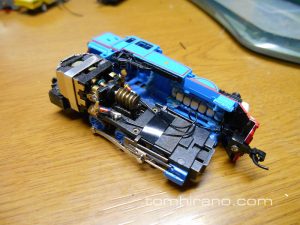 It felt good for a reasonable amount of time.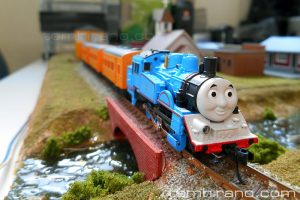 I also have a proper production version of Thomas, but this one is my favorite because it took a lot of time and effort (lol).The details are nice as it is based on C11.
It was a hassle, but I enjoyed it.
You too ^^