Around 2000,MinitrixI once modified the U30CG released by the company to look like a P30CH.Although it was shorter than the actual car, I was quite satisfied with it at the time and often displayed it in my room.I wrote an article about this topic the other day >Production of P30CH from U30CG (2000-2001)
P30CH again
P30CH disease has recurred becauseWhite River Productionsissue HO Collector It was right after I saw the first quarter issue of 2019.I found a drawing of the American GK company that had become a phantom in the article.Since the dimensions were listed to some extent, I created 3D data by interweaving it with other materials on the internet. It took me nearly 80 hours to make it into shape.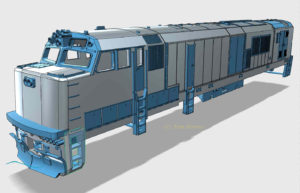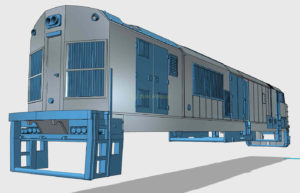 I purposely did not follow the drawing, but partially deformed it based on my personal preference.The edges of the bonnet are slightly more rounded than in the drawing.The slant on the front of the cab has also been increased by a few degrees, making it a little overboard.I don't know if it was good or not lol
Power of P30CH
When it comes to the power of GE's CC, many people probably thinkKato U30CAs you may recall, the P30CH is actually about 5 feet long, so I couldn't use it.However, it would be a waste to buy and use a Dash-8 class vehicle just for power.So, like a poor person, I chose the retro and inexpensive Lifelike E8/9 (lol)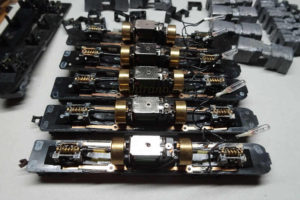 However, since the trolley is different, I had to make the trolley frame myself.The fuel tank-shaped weight that was originally attached was also removed and remade into a square one using a 3D printer.Since it is a little lighter, the power will also be lower lol
body variations
The good thing about 3D printing at home is that you can manipulate the data a little and output it.The details have been slightly changed to match the paint generation.There are three types of body data created this time.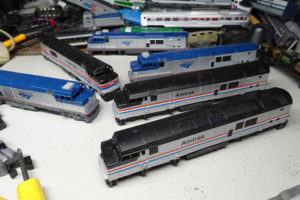 Amtrak Phase II era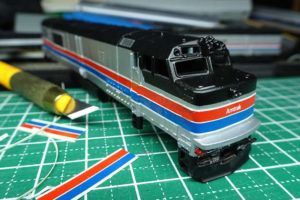 Produced with the image of circa 1976 when it was introduced to Amtrak.This is what it looked like before the side vertical grille was added to interrupt the stripes.This vehicle was about to be completed when I dropped it and broke it.
Amtrak Phase III era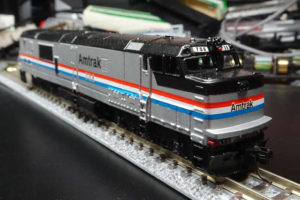 By the time Amtrak paint moved to Phase 3, vertical grilles on the sides became standard.Is there any modification on the top of the hood?I made some slight changes, such as adding a frame and rivets.
Amtrak fictional Phase V era (?)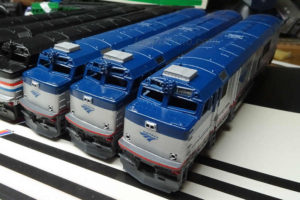 What if it had been rebuilt and survived?I created it with these settings (lol).I accentuated the installation of the air conditioner in the driver's seat, and also added the mandatory ditch light.Well, I guess this is cool as it is (lol)
---
Completed photo
There were various problems and challenges, but generally speaking, it ended up looking like this.There is no coupler included (lol)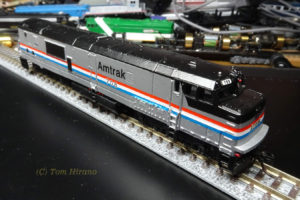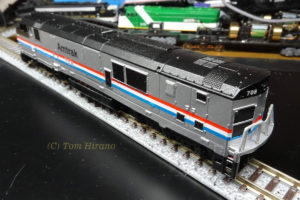 Thoughts I made
Much more realistic than the P30CH style U30CG.I wanted to add more details, but there were a lot of things that were unreasonable with the basic design, so I decided to finish it for now.
It happens every time, but while I'm making it, I find myself finding points that I would like to improve one after another.It's probably a poor design (lol) The mounting part of the fuel tank is not good this time either, and the structure to prevent shrinkage, which is unique to UV resin, doesn't work very well.Furthermore, the shell is too thin and tends to ripple when it shrinks, which is another problem.Further efforts and research are required.
So, I'm working on an improved version of P30CH again (lol) I wonder if I'll be able to write an article about it next month? (lol)