A long time ago, I wanted an N-scale General Electric P30CH diesel locomotive, and this is a story about a railroad model that I modified based on another model.The model car is overseas Minitrix A diesel locomotive called GE U30CG.
The original product has front and rear handrails, but it was a used product that was missing, so it looks like this (lol)
U30CG
The U30CG is a GE diesel locomotive made for the ATSF (Santa Fe Railway), and is a full cowl version of the GE U30C with a steam generator installed.The G at the end of the model number stands for Steam (G)enerator.The sides of the body were corrugated to match the streamlined passenger cars, and the bonnet had a rounded style.
Compare with P30CH
The overall length of the U30CG is 67 feet 3", while the P30CH is 72 feet 4".It's about 5 feet shorter, but I think it's probably the closest in terms of shape.I read it in middle school Railroad Model CraftsmanI still remember the article in the August 1984 issue of the magazine "Modeling Amtrak: Part II, Available Models" that said "Somewhat resembles P30CH". Minitrix, the manufacturer that makes the U30CG, also has Amtrak paint in its lineup.
Modified parts of U30CG
Bonnet modification

The P30CH's distinctive feature is its angular bonnet. The U30CG has a rounded bonnet, so we have to modify this part.The technique was a heaping pile of putty and filing that anyone could think of (lol), and I started carving it out while looking at photos of the actual car.The area around the cab window also needed to be sloped a little, so putty was also applied around the cab.

side modification

The side of U30CG is corrugated.The impression would be quite different if left as is, so I modified the sides.I wasn't confident enough to prepare the sides with putty and sanding, so I covered the corrugated edges with a thin plastic band.It's a secret that the plastic vane was too thin, so the areas where it reacted chemically with the adhesive became bumpy.
I feel like there are a lot of things that are different, such as the radius of the roof, the length of the vehicle, the location of the radiator, etc., but I thought it would be ok as long as it created a good atmosphere, so I passed on everything (lol)
P30CH style U30CG (lol)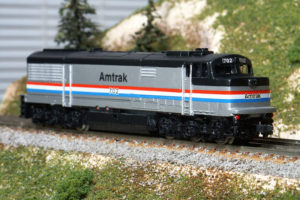 I was able to get a square front, so I guess it's okay.I was planning to buy and install detail improvement parts around the lights and skirt, but I couldn't make any progress.In the end, it was completed as is (lol) I'm sorry for the random finish as usual.