Canada's bombardier LRC.I was able to see it once at the Montreal station during a family trip.
Then one day, while looking through old railway magazines in my junior high school library, I learned of the existence of an Amtrak version of the LRC (lol).As someone who loves Amtrak, it was love at first sight.I tried making one out of cardboard, but I couldn't make it to my satisfaction, and my love for LRC faded (lol)
28 years have passed since then,RapidoThe companyVIA Product announcement of LRC.I remembered what I liked a long time ago and fell in love with LRC again (lol) However, since it was only available in HO gauge, I was disappointed with the N scale.I'm looking for a way to make my own again.
By the way, LRC is an abbreviation for Light Rapid Comfortable, which is a light, fast, and comfortable vehicle (lol). It is a pendulum type vehicle intended for short to medium distance transportation, and was manufactured by Bombardier and Fuji Electric.The train consists of a diesel locomotive and a passenger car.Although the diesel locomotive at the front has the same design as the passenger car, its specifications and performance are different.F40PHIt was possible to operate in the same way as the , and it could be towed by itself as a diesel locomotive.The pendulum system isTalgoManufactured under license from.
There were multiple versions of the LRC, but the one I wanted to model was the Amtrak version.The basic appearance is the same as the VIA version, but some changes have been made to meet Amtrak's requests, such as the size of the windows.
In addition, for this production, we purchased a new 3D printer.We used a stereolithography method that makes it easy to bring out details.I also tried out a new 3D modeling software, but I couldn't really get used to its operation.In the end, I used the same Autodesk 123D Design that I used to create the Rohr Turboliner.
The basis of the shape is your favoriteCorelDrawuse.Using the drawings I found on the internet as a reference, I visualized them and converted them into vector data.The drawing I used as a reference is probably from Rapido (lol).I imported the traced planar data as a solid using 3D software.Add thickness.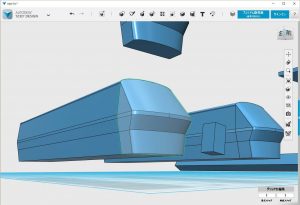 The rest is just repeating the steady work of making and arranging the small parts.
The shape of the face is about 90% of what I had imagined, but it wasn't perfect so I compromised on the 4th try (lol)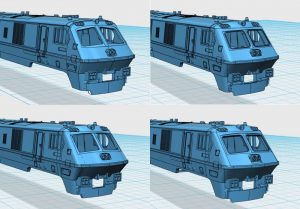 It took about 80 hours to complete the data.Honestly, it was pretty tough (lol)

Amtrak LRC production (2) Output edition Continued to