It's a little late, but I took a look at KATO USA's SDP40F.I was quite interested as this was my first time making a model.
SDP40F is very similar to EMD FP45, so I thought it wouldn't be made into a model, but Kato-san did his best (crackling)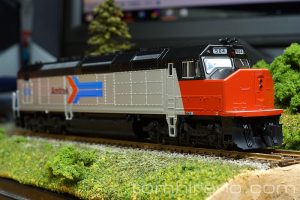 It's pretty good.
The back looks like this.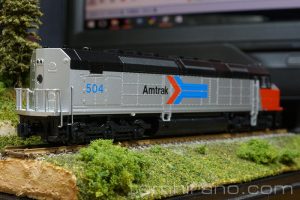 The SDP40F is supposed to be a little longer than the FP45, so I compared it to the antique FP45 released in the 70's.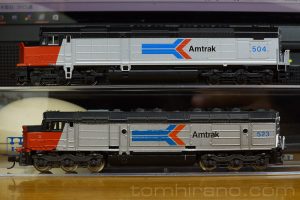 Honestly, not much has changed (lol) If you don't pay attention to the details, you'll be able to fool yourself, right? w
Comparison of front faces.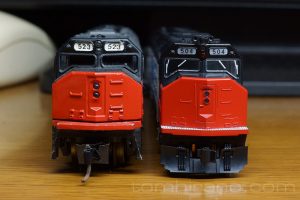 As expected, AHM/Rivarossi is a product from the 1970s, so it may not be comparable in many ways, but on the other hand, products from 40 years ago are also quite comparable.You could say that. The FP45 is slightly taller because of the height of the wheel flange.
As for the actual configuration, the SDP40F is equipped with a steam generator and does not have a HEP power source.Therefore, I think it would be more realistic to have a Phase 1 or 2 Streamline passenger car tow it.
If you are towing a Superliner or Amfleet, you will need a HEP power source.At that time, Amtrak was a modern model with an E8B unit or F40PH connected to the back of the SDP40F?It was compatible with passenger cars.
You too ^^