GG-1 N scale is currentlyCatoandbackmanIt is released from.There was a paint job that was only released for Bachman, so I wonder if I could swap the body with the extra Kato I have on hand?That's what got me thinking.While ordering repair parts, I also purchased a GG-1 body.
The list price for the GG-1 body is $20, and it comes with a painted body, window/headlight lenses, and cab step.Since the pantograph is not included, I used Kato's one this time.The parts areClick hereYou can buy it at our online store.Shipping costs are high if shipped directly from Japan lol
<Processing on the backman body side>
Inside the body on the backman side.screw?There are two screw holders on the front and two on the back, which are thought to be for fixing.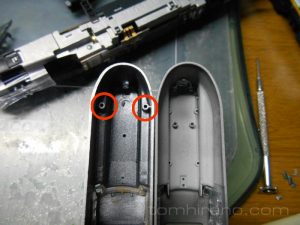 I crushed it with radio pliers, tore it, and trimmed it with a file.
I broke off the claws used to fix the window glass in 8 places on the front and back.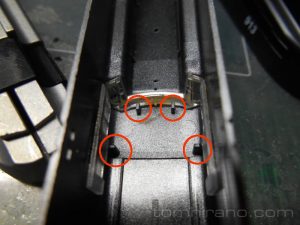 In fact, the glass seems to be glued, so there is no problem even if it breaks.pucchin puddingJust like breaking a pin (lol)
Removal of driver's cab steps.It was fitted in, so I pushed it out from the back with my nails, etc.This is not necessary as the step on the Cato side will be used.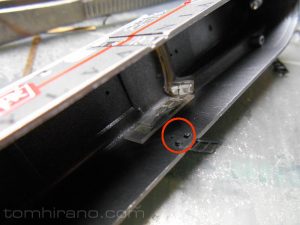 The pantograph I was worried about.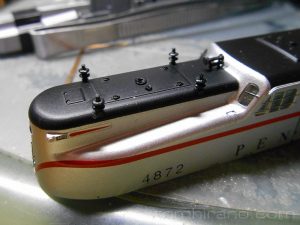 Actually, you can just pull out the insulator and install Kato's one (lol), although it's a bit of a bad fit.
<Processing on the Kato side>
Work involved removing the plastic holding the light base and cutting the part that interferes with the driver's window.I made the cut as if I was making the slope steeper.Little by little while actually applying the parts.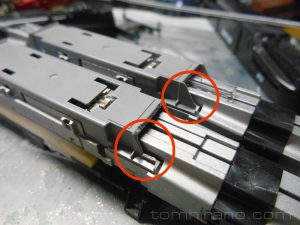 The back is before processing, the front is after processing
I used Kato's glass parts for light transmission, and cut the headlight part a little.I shaved it down to the extent that it didn't interfere with the Bachmann's headlight glass.However, since there is no way to stop it, I used sellotape to cover the body (hey), and the light would leak into the driver's seat, so I used black tape to block it.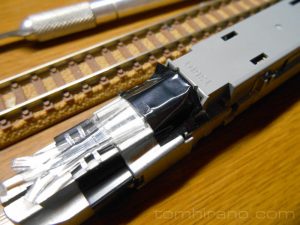 That's all for the modification.The body and chassis are also too tight and cannot be removed easily.There doesn't seem to be any need to make nails.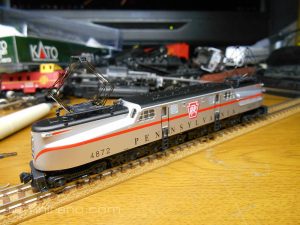 I think Bachman's GG1 will become cheaper eventually, so I don't think it will be modified much, but it might be a hint for those who really want to use Kato's power.
You too (^^)