A prologue to model trainss?
As expected, my childhood memories are vague, but when it comes to railroad models, I think it all started with the wooden die-cast models that were found at station shops.After that, he bought me an Odakyu NSE Plarail.At the same time, Morinaga Sportsman Club Caramel collects trains (lol).Now that I think about it, it's a normal pattern for a railway geek.
Encounter with HO gauge
I first became interested in model trains when I was in the third grade of elementary school and moved to the United States.It started with a Christmas present he received from his father's work. Toys R UsIt was an original basic model train set.It consisted of a Santa Fe locomotive, a refrigerated car, a hopper car, a caboose, and one circle of track.The refrigerated truck even features the Toys R Us character Jeffrey (lol).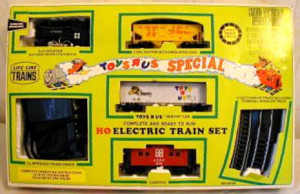 In America, HO is the mainstream, and there are quite a few products that are similar to what we would call Plarail in Japan, and there was a wide variety of them.During my six years in America, I became more and more a railway nerd.
Below is a view of the diorama I made at the time.Well, the layout was simple: a board with roads printed on it, an O-shape, and a lead-in line.Unfortunately, it fell apart when I returned home.Most of the HO vehicles he owned at the time were sold on Yahoo Auctions.He has part of the structure, but it's in cardboard because he doesn't have plans for it.However, that cardboard is now missing (lol)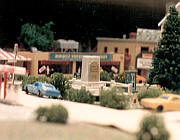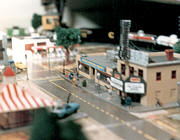 University days
In high school, my main hobby was PCs, and I completely neglected it, but after studying abroad at university, it started to boom again.The route was changed to N scale in consideration of Japan's housing situation.He was a suspicious exchange student who cut his food budget to buy a vehicle (lol).As expected, he couldn't take the layout home with him, so he only bought the materials and returned to Japan.Immediately after returning home, he attempted to create a layout, but suddenly became uncomfortable with the flat terrain, so he stopped and dismantled it.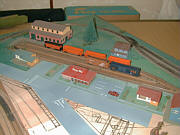 From 2001
This time I tried again with a three-dimensional layout.The photo on the right shows what the skeleton looked like at the time.It was started with the aim of recreating the American landscape where you can feel the nature.However, the curves were so tight that American 85-foot cars frequently derailed.It's been suspended and dust is accumulating (lol)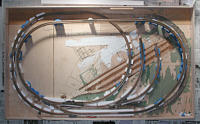 From 2020
After discovering 3D CAD, I started to worry about the driving performance of vehicles.Rebuilt as a test track for self-built vehicles.Although the railroad tracks have been laid, there is still no sign of greening (lol)